10 ways to Crush Online Real Estate Marketing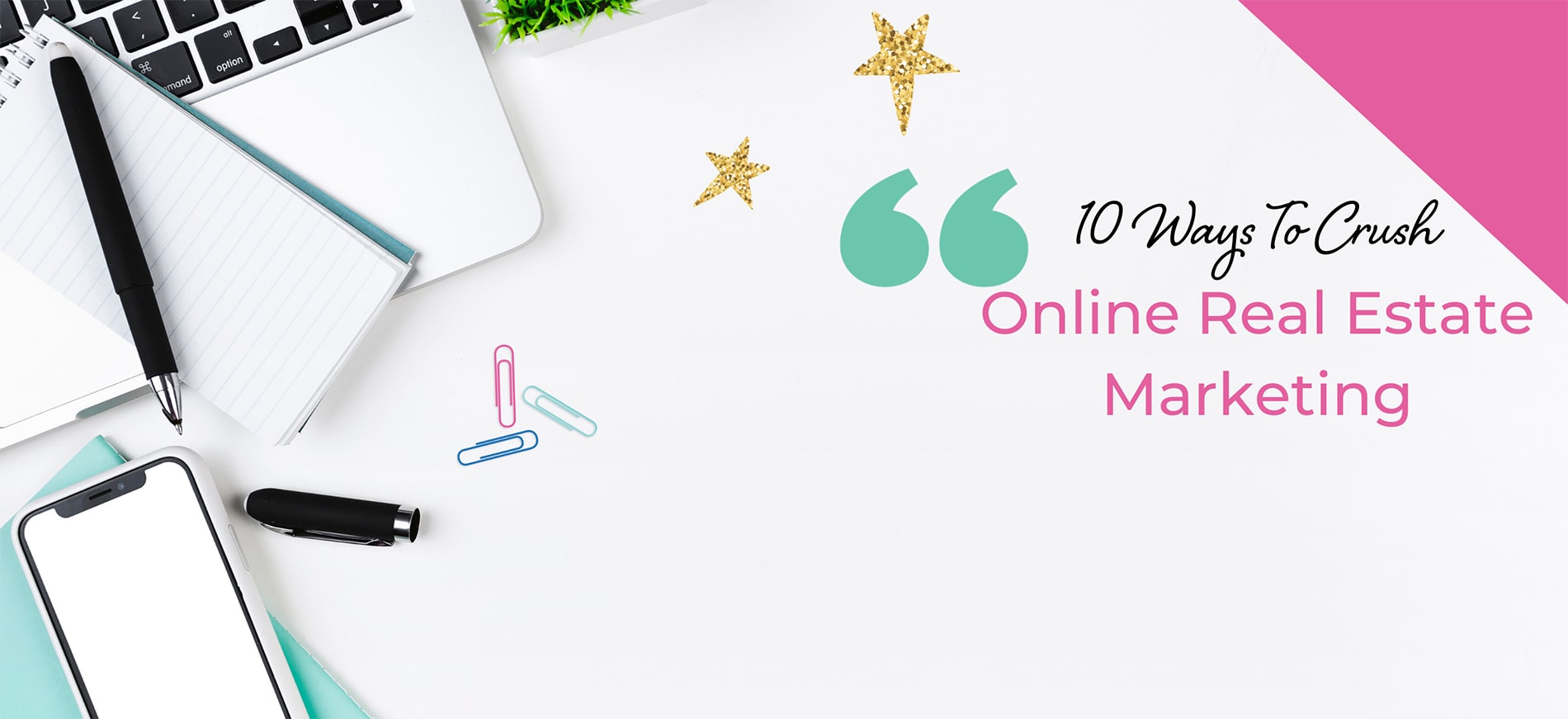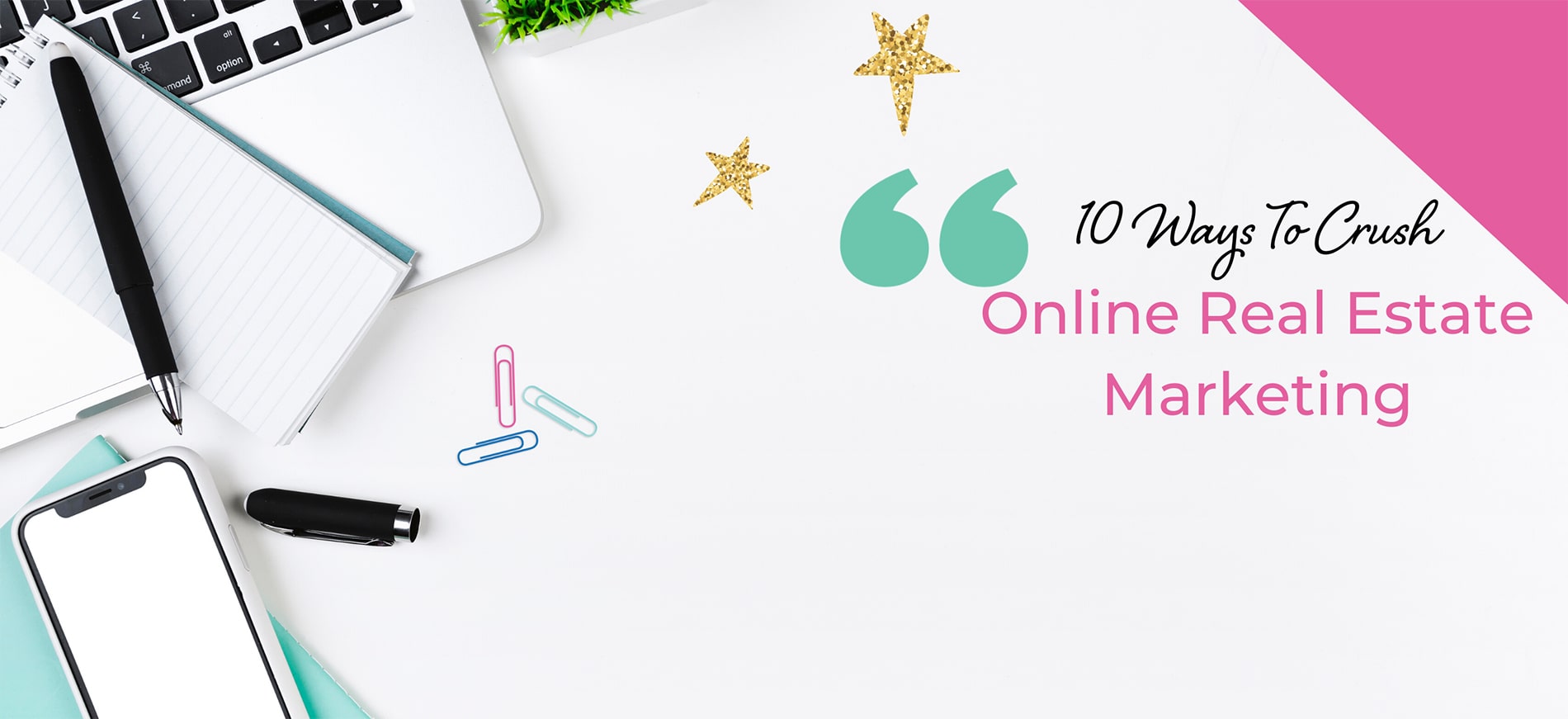 How do you do online real estate marketing that actually gets results?
If you're like most real estate agents, you've probably got a jumbled online presence — a few profiles scattered around, some social pages, maybe your very own website. You've got good intentions to get your name out there and make sure people can look you up on Realtor, Zillow, Facebook, etc. But mostly, it's all there just for the sake of it. Sort of like an online business card that doesn't really say much about you.
Even worse, it doesn't get people excited to buy or sell with you. And it shows, because word-of-mouth and referrals are the bulk of your business.
In this post, I want to share 10 things you should focus on in order to crush your online real estate marketing, so you won't have to settle for outdated techniques to get clients. I'll go through the really impactful stuff to help you get the most bang for your buck. Because I know you're busy, and I don't wanna waste your time.
But first…
Why is online real estate marketing so important?
Your online presence is actually a HUGE part of your sales funnel, because the modern consumer does more research than ever.
You're going to get Googled. They're going to hunt you down on Facebook. And you bet your you-know-what they're going to form an opinion (pretty quickly) based on what they see.
Think about it from your own perspective when you've had to hire a service professional yourself. Even for smaller jobs like fixing a leaky pipe, cleaning out the dryer vents, or recalibrating the garage door, you do your due diligence to make sure you choose someone who's qualified to help. What you find (or don't find) online really influences your decision.
For bigger jobs, like replacing the furnace or installing a French drain, you're going to take your search to the next level to find someone who checks all the boxes.
Because buying and selling real estate are monumental tasks, it only makes sense that people are going to research the heck out of all their options. If you're going to stand a chance against the competition, you've gotta have a decked-out online presence that leaves no questions in their mind.
So here are the 10 things you can do for better online real estate marketing:
1. Spiff up your website
You've been there before. You Google 'plumber near me', you get excited by the results, and then you start clicking.
What happens when you come across the site that's kind of meh? The one that's not a complete eyesore, but still leaves you wondering, "Umm, how do I even get around this site? Where's their contact info? Do they have any pictures or reviews?"
You bounce.
The same thing happens when someone comes across your site and it's not up to snuff.
One of the best things you can do for your online presence is to spiff up your website (or if you don't have one, make one).
There are a ton of DIY platforms out there that make it pretty easy — think drag-n-drop easy — to create a site that looks and feels awesome. Even if you've got a site but it's on an older, outdated platform, I'd recommend creating a new one using a modern platform. You'll save a ton of time and frustration (and won't have to learn how to code, either).
With all the technical stuff out of the way, what things should you focus on in order to do your website right?
Your site is all about building credibility & trust, providing value, and guiding visitors to take some sort of action. Here are some tips to tackle these:
Write the right About page — Your 'About' page is one of your site's most visited places, but don't make the mistake of thinking it should talk all about you. Build credibility by relating to visitors and demonstrating how you solve their problems. Include some social proof like testimonials and reviews to boost your trustworthiness. When visitors read your About page, they should come away confident that you're the right person for the job.
Include useful content — This goes along with having a good long-term strategy. You want to make sure you have content that people can actually use, whether it's helpful blog topics for first-time buyers, or a home valuation tool for sellers. When people see that you're credible, trustworthy, and valuable, they'll come back often and refer others to check you out, too.
Help visitors take action — Calls-to-action (CTAs) let visitors subscribe to your newsletter, follow your blog, send you a message, etc. Include these throughout your site so that they can stay connected and interact with you. Besides this obvious advantage, you get to collect their info so you can contact them down the road, build your email list, and nurture those leads until they convert.
Your site is a critical piece, but it's part of a bigger ecosystem that makes up your online presence. Which leads me to my second point…
2. Do social media right
It's not enough to just have a business profile on Facebook, Instagram, or LinkedIn. Just like with your website, you need to flesh these out to reinforce how credible, trustworthy, and valuable you are. You also need to post often and engage with people to remind them you're worth following.
One of the first things you should do is complete your profiles. Approach it like how you approach your website. Convince people you're the right person for the job by addressing their problems, showing how you solve them, and giving social proof to back it all up. Also, don't forget to include links to your website so you can drive traffic and capture more leads.
You should post regularly, too. The only catch is, make sure you do it with a healthy balance of post types. You don't want to turn your social profiles into spammy self-promotion only. Instead, mix it up by posting helpful tips, sharing relevant images, and even linking to third-party sites in your niche.
And one of the most important parts of doing social, is to be social. Engage with people who like, share, and comment on your posts. This shows that you're actively listening and ready to interact with them, so if they've got questions or want to learn more about you, they'll feel like they can count on you to be there.
3. Create valuable content on all platforms
Content is king.
It's a popular saying among online marketers. Because it's true. And no matter what platform you use, you need to make sure you create content that's valuable and engaging to your visitors.
Take your website, for example. If your target audience consists mostly of first-time home buyers, what sort of website content would they find useful? They'd love to see blog posts about homebuying tips, common myths & mistakes to avoid, and other topics relevant to inexperienced buyers. They'd also find a ton of value in free materials like market guides, design trends, moving checklists, and more.
When you go on social media, post content that's appropriate for each platform. The good part is, you can often recycle content by making just minor tweaks, all while keeping things engaging. What's also awesome is that you can include links to your website or landing page so you can drive traffic with your content.
Let's say you're posting on Instagram and targeting home sellers. If you specialize in staging homes and selling them quickly, you could post a (professional) photo of a before-and-after. People love these types of images, especially when there's a stunning difference between the before and the after. The image itself engages them, and you can include a caption that has a CTA like "comment for our free seller's guide." With a post like this, you're engaging and providing value, and you can also slightly modify the content for posting to Facebook or other platforms.
Once you get going with more and more useful content, people will really begin to take notice of you. Before you know it, they're sharing you with their own network, and your business is starting to take off.
4. Don't forget social proof
Credibility and trust are a couple of the main things people look for in an agent. The best way to build these up is to include ratings and reviews in your online real estate marketing efforts.
A lot of platforms have these features built right in, so clients can easily leave their comments about their experience working with you.
The biggest trouble you'll run into is actually getting the reviews. You might not want to leave it up to clients to think of it on their own (though some will). Luckily, all you have to do is ask nicely, and 9 times out of 10 they'll be glad to share their testimonial.
Once you've got some positive reviews and ratings to back you up, you can put them on your website and even use them as part of your social media content plan.
Aside from testimonials, make sure to include other forms of social proof. These include awards and accolades, trust badges from places like the BBB or Zillow, and stats about how many satisfied clients you've served.
Explore all of your social proof options in order to build trust and really grow your audience.
5. Make property ads that sell
Making property ads is tough. It's even harder when you don't have a team of people who specialize in the different areas of effective advertising, like photography, design, copywriting, etc. Instead, you've gotta wear all these hats and just give it your best shot.
Of course, you could outsource and leave the work to a qualified group like S2B.
But in the meantime, you want to get crackin' because your properties aren't gonna sell themselves.
Luckily, we're in the age of information and technology, which means there are plenty of resources to help you out (like this one☺). So let's dive into a few things you can do to create some killer ads.
You're probably used to sticking with basics — a decent image, some branding, and then a description that's all about cold hard facts (3 bed, 2 bath, 1200sqft, etc.).
While this is all well and good, you should keep in mind that each of these elements needs to do its job effectively.
A great photo, slideshow, or video is usually what makes people stop for a look. You're shooting for top quality here, so think of all your available options.
You could borrow a friend's DSLR camera or professional equipment to get what you need. But if that's out of the question, remember that most modern smartphones have a pretty decent camera. Make sure you get shots that show off the property's character and unique features, and then run your images through some editing software to make them look stunning.
Next is branding. You want to include graphics, such as your logo, contact info, and tagline, to make it obvious that YOU are selling the property. But, you also don't want to go over the top because this could distract your audience from the photos and/or the message.
The third crucial piece to an ad that sells is the description. The right words can make all the difference, and there's a lot to think about when you're writing copy for your ad.
But if there's one thing to know, it's this — your description should make people FEEL.
It should make them feel the warm afternoon brunch they'll have in the cozy nook off the kitchen. It should make them feel the refreshing breeze coming off the lake as they stand on the back porch. It should make them feel how easy it would be to host a party or family gathering.
Of course, you want to sprinkle in the details about bedrooms, bathrooms, lot size, etc. But your main goal is to make readers feel like coming home to the property by helping them imagine what it's like to be there.
When these three elements — photography, branding, and writing — are done right, you'll have an ad that will get people's attention and make them eager to move in.
6. Offer more value with your own info product
Offering an info product is an easy way to provide upfront value and generate more leads. You should definitely include at least one in your online real estate marketing strategies.
But what exactly is an info product? It's a helpful guide, ebook, checklist, course, or other resource that's useful to your audience.
Some examples include first-time homebuyer checklists, market reports, energy-efficiency tips, and tons more. The great part about creating your own info product is that your options are limitless.
They're also usually pretty easy to make, and you can offer them in common file formats that are easy to use.
An important thing to note is that your info product should be low-cost or totally free. I know, you're going to spend your time and maybe even some money putting together your info product. But it'll be worth it, and here's why…
The people in your audience want value, and your info product delivers it. They see that you're actually useful to them and that you genuinely want to help. This upfront value establishes some rapport and trust before you even come into contact with them.
This means that they'll be more likely to dip their toes into your sales funnel, and from there you can nurture them until they're ready to do business with you.
Use your info product wherever you're looking to capture more leads, and offer it up in exchange for simple contact details such as an email address. In no time, you'll be able to generate tons of leads from Facebook ads, email nurtures, blog opt-ins, and any other points of contact between you and your audience.
7. Warm up your leads with email
What's great about email is that it lets you get right in front of your leads so you can stay top-of-mind. And it delivers a high ROI along with tons of other benefits (think 40x more effective at acquiring new customers than Facebook or Twitter).
Pair it up with some automation expertise thanks to yours truly, and email can become a serious selling machine for your business.
So how do you do it?
Well, now that you have tons of leads thanks to your amazing info product, you've got the perfect opportunity to start warming them up.
Think of all the ways that you can keep providing value. Content rules supreme here, so get your ideas flowing. Anything that provides value will work, like more info products, blog posts, video tutorials, and everything in between.
For example, if you're targeting sellers, you could create more info products, like one that includes home staging tips, another that's a yard-maintenance checklist, and another that gives advice about negotiating the sale.
Offer these one-at-a-time over your email series, and don't forget the CTAs to urge leads to get in touch with you.
When you deliver the emails over the course of a few days or weeks, you'll be able to stay top-of-mind with prospects and continue to offer solutions to more of their problems.
Your email funnel is one of the most valuable tools in your online real estate marketing toolkit. Use it to get right in front of leads, show your value, and nurture them until they're ready to work with you.
8. Tidy up your other online profiles
Aside from your website and main social platforms, your other profiles are important to your overall online presence. Google, Yelp, Realtor, Zillow — your audience will search for you on these sites, too. If you want to build rock-solid trust and credibility, put these on your to-do list right away.
Fill out each profile completely. Don't do it just for the sake of it, either — create your profiles like you mean it, with great photos, actionable descriptions, and as much social proof as you can gather. Treat these profiles like they actually matter, because they do!
A lot of times, people use these sites to gather social proof and gauge how qualified you are based on other people's experiences.
Done right, these profiles can go a long way to providing that extra authenticity and make people feel confident that you can do the job.
On the flip side, they can actually hurt you if you neglect them or don't put in any effort at all.
Think about that time you did a Yelp search for restaurants near you, and came across the one with no photos and only a single ok-ish review. Did you go? Heck no!
After you fully complete your profiles, remember to engage with people who comment or leave reviews. Give thanks to those who praise you, and address the concerns of those who had issues. Doing this shows that you're actively involved and listening, and that you're focused on making your clients happy.
9. Use professional photography
Humans are visual creatures. It only makes sense that better quality photos have a greater impact on people. Use this to your advantage when it comes to your online real estate marketing.
Seriously, use professional photography wherever you can — from your website, to your property ads. Not only does this make you more visually appealing, it also shows your audience that you're serious about how you do business.
For team headshots, branding collateral, brochures, testimonials, and more, make the most with high-quality imagery throughout.
The same goes for your property ads. I touched on this a little bit before, but professional photography can do A LOT for your sales. In fact, studies have shown that pro photos help homes sell faster and for more. One study even showed that properties using professional photography sell 32% faster than those that don't.
So when you're ready for photography that'll make your listings look irresistible, get in touch and S2B will hook you up.
10. Remember to be human
These days, we spend so much time in our digital worlds. It can be hard to remember that we're all human.
So remind your audience by injecting some of your personality into your marketing.
I'm not saying that you need to give a tour of your wardrobe or livestream your morning routine. I'm just saying that it's important to remember that you're not ONLY about business. You gotta serve up a healthy dose of personality every now and then.
Say you're trying to get more followers on Instagram. You definitely don't want to post like either of these two:
All business — "Hey, work with me. Have you heard about my services? Want to work together? Here's what people love about me. You should work with me!"
Sometimes business — "Check out my coffee! What's your favorite dog breed? Sell your house with me cuz I'm a realtor. Have you ever been skydiving?"
When you don't have enough personality, you come off as a spammy jerk. That quickly leads to people scrolling right by and even unfollowing you altogether.
And when you have too much personality, the same thing happens (without the spam). Sure, it might lead to some interesting conversations, but as far as business goes, people will wonder how serious you are.
Add just a touch here and there. Include your unique voice in some of your ad copy. Post about some of your décor ideas. Maybe share a relevant quote from an influencer in your niche.
By reminding people that there's a person behind your business, they'll be able to feel a deeper, more human connection with you. And that's big when it comes to building trust.
Getting more out of your online real estate marketing is pretty straightforward when you follow these 10 tips. From renovating your website, to sprucing up your social accounts, nurturing leads with email, and adding some of your personality, you can boost your business with the right knowledge and the right attitude.
If you want to see how well you're doing these 10 crucial things, get in touch with S2B for your complete marketing audit.
I'll break down your entire online presence to show you what you're doing right, and anything you need to focus on for better results. If you're like most of our clients, you're stressed and overwhelmed with your marketing.
That's why this overwhelm audit is the perfect thing to ease your worries.
Contact us now to get your audit and see exactly how to crush your online real estate marketing.