Why Your Real Estate Marketing Strategies Should Include a Blog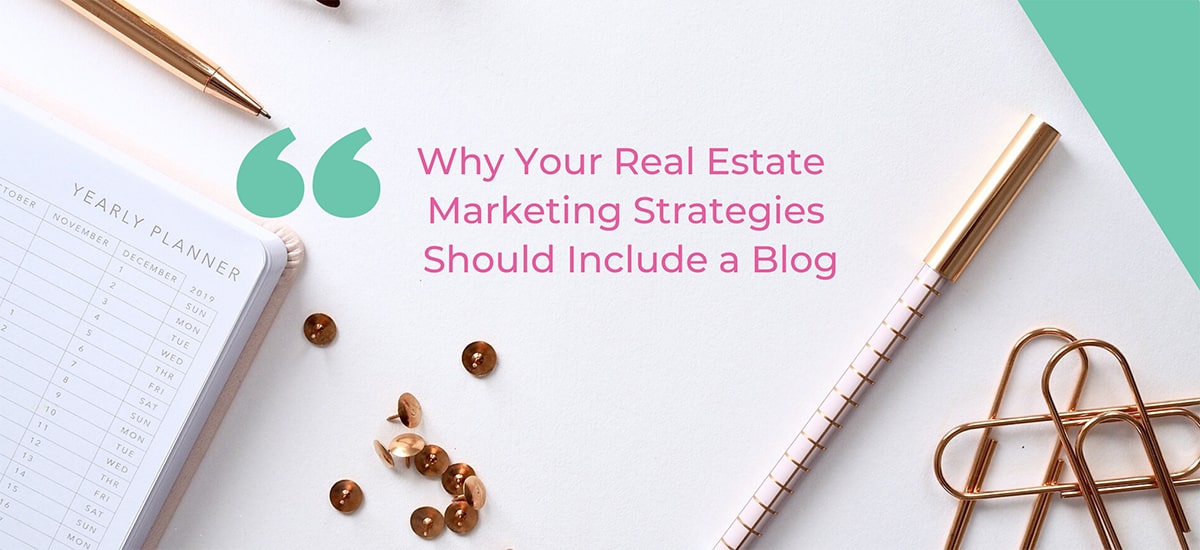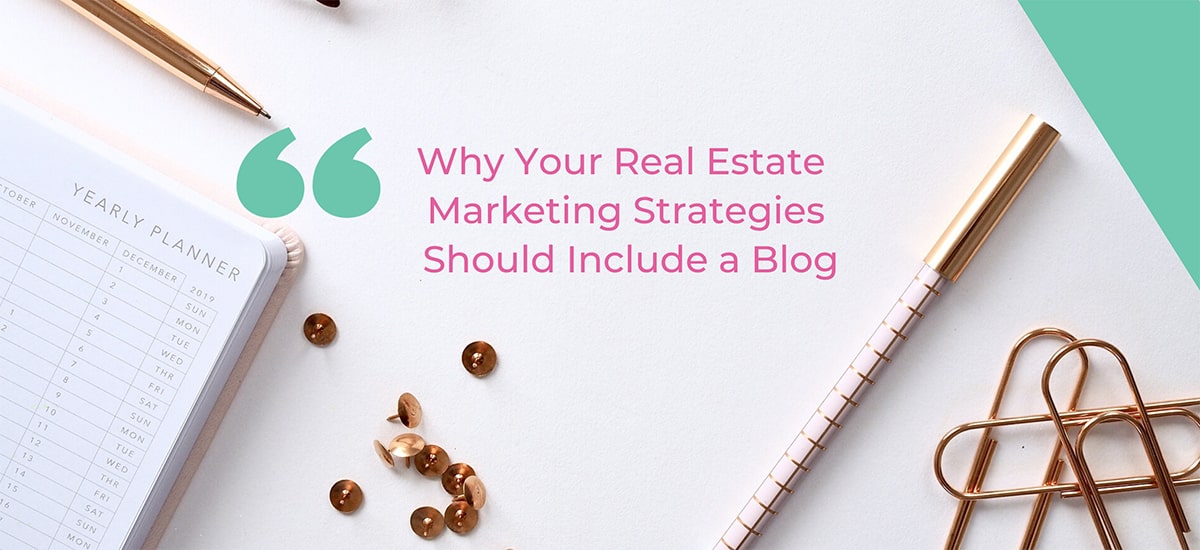 Working in real estate, you know how much clients trust and rely on your expertise. And yet, when it comes to using the right real estate marketing strategies, too many business owners are still not leveraging their expertise to reach new customers.
One of the best ways you can reach ideal clients online is through a well-kept blog that positions you as an expert by providing value to readers.
Yes, it's possible, and we make it happen every day. Let's explore how a blog can reach new clients, while helping you stand out in a crowded digital marketplace. 
Blogs help you meet clients where they are
Everyone is online these days, especially your clients.
Think about it. If you need a Realtor®, mortgage broker, or home contractor, where do you begin your search? Online, of course.
Blogs help position you as an expert for those seeking solutions to their real estate needs. When someone browses online, they're searching for answers to a question or trying to fulfill an intention. Your blog can become the answer they're searching for, which means your website now becomes an active resource for potential clients.
Your know-how can therefore help you attract new clients. When done right, an effective blog helps you:
Transform your website into a resource. Website traffic is important, and so are returning visitors. Your posts keep readers coming back to your site when they need to reference important information. These are called pillar posts, and they turn your site into a resource for people who need what you specialize in. Not bad, right?
Keep visible on multiple platforms. You'll need to share your blog on various social media platforms to build readership and website visits. Here's a huge opportunity to keep your social media posts fresh, while creating promotional content that keeps online users engaged with your brand.
Effectively written blogs featured on your website turn your business into a credible resource within your field. More people are likely to work with someone who they view as being extensively knowledgeable.
How to get started
So, you know your stuff inside-and-out, but how do you kick off your first blog post? More pressingly, what should you write about?
Let's look at some ways to get the ball rolling:
Deep-dive into a local area or neighborhood. Do you have a depth of knowledge about a particular area? Share your expertise in a post that provides value to curious online users.
Closings. What are some common (and avoidable) snags that tie up the closing process? What simple steps do you advise clients take to help things go smoothly?
Paperwork. Are there important certifications, filings, or other procedural items that your clients should keep in order?
Human side of real estate. Do you commonly see people running up against unrealistic expectations, unforeseen life events, and other challenges? What should your clients keep in mind to make smart choices and reduce stress?
If more than one client is confused about something, there's good reason to expect that many more are, too. Common sticking points are great ideas to tackle in your blog posts. More importantly, blogs position you as the perfect resource to help them make sense of it all.
You are creating online content that anticipates your clients' needs and establishes your credibility, well before the transaction takes place. This is what makes blog posts ideal components of real estate marketing strategies.
What's wrong—and how you can fix it
When you know what your clients are struggling with, you are in a better position to present yourself as their problem solver.
Understanding your clients' "pain points" goes a long way in helping you effectively brand your expertise. A pain point is a problem that your customer is experiencing. For instance, if someone is tired of commuting to work, their pain point would be solved by finding a home closer to work.
Do you notice that many home buyers are often confused about the need for a mortgage preapproval? Or maybe you find that many sellers are unclear about pricing. Since you regularly help your clients through these problems, you're in a great position to produce informative content that drives online business.
What a blog should do
Blogs need to pull double duty. That is to say they need to drive business for the author, while also providing value and actionable information to the reader.
A great way to ensure that your blog is effective is by following these simple rules:
Don't overwrite. You may be tempted to show off your vast knowledge by including every detail about a particular issue. Blogs should offer straightforward, organized content targeting a specific topic.
State your point early. By the third sentence, your reader should know exactly what your blog is about. Get to the point upfront, and use the body of your post to offer examples and supporting details.
Use bullet points. Visually breaking up information makes reading a blog far less daunting. Avoid long paragraphs and make the information visually digestible, so readers can take action.
Offer your services at the end. The best resource your clients have is you. Once you've shown you have what it takes, include your contact information at the end of your post with a "call-to-action." Do you want them to call, leave a message, email? Are you promoting a certain service? Use the conclusion to offer yourself as a solution to the topic you've written about.
One of the best real estate marketing strategies available to you is the ability to turn information seekers into clients. An effective blog helps you do just that.
Ready to get started?
So, now you're ready to integrate blog writing into your real estate marketing strategies. Wonderful!
A great place to start your blogging journey is with a list. Jot down the most common issues your clients encounter before and/or during the real estate transaction process, like I mentioned above.
If you need help, reach out to a marketing expert for copywriting services and real estate marketing strategies to drive business and reach your ideal clients. Finding a professional to write and promote your blogs is a great way to save time and stress.
Ready to let digital audiences know who's got the goods? We offer a range of content services to help your business thrive with the best real estate marketing strategies.
Hit the "BOOK YOUR FREE CALL" button on the top menu, and start reaching the clients who need you most.