Use these long-term ad strategies for long-term payoff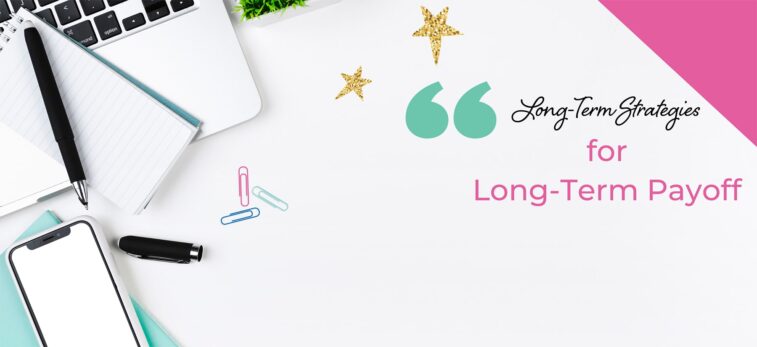 What does "long-term ad strategies" make you think of?
You're probably a little bleh, because "long-term" means you'll have to wait for results. And in the meantime you'll have to keep working at it. Why go through the trouble of setting up funnels, retargeting, and waiting, when you could just put more into mastering your short game and getting customers now?
You definitely could. But if your strategy is focused mostly on the here-and-now, you're missing out on lots of sales. That means you'll also miss out on all the retargeting down the road, and the big profits you could get once you've turned them into customers.
You do want to get to that cliche "next level," don't you?
The fact is, some leads just need more time to warm up. If you're not thinking long-term, you'll never nurture these customers enough to make them convert.
That's why long-term ad strategies are so important. They make your funnel wider, allowing you to create authentic, long-lasting relationships with your audience, capture more customers, and set yourself up for results that keep paying well into the future.
Today I'm going to show you some long-term ad strategies to use on different social platforms (I'll use Facebook as an example). Add them to your marketing plan so you can nurture more leads and snag more conversions.
What are long-term ad strategies, and why should you use them?
Here's the short and sweet of it. "Long-term" doesn't mean a few weeks from now. Instead, think months, maybe even years down the line. It doesn't seem so sweet right now, but you absolutely should use long-term ad strategies because…
They help you consistently engage and nurture people until they're ready to buy.
Here are a few more whys to back that up:
If you're only thinking short-term, your opportunities disappear as soon as you stop putting in the effort.

People (especially millennials) do lots of research before they're ready to buy. So you gotta stay top-of-mind longer in order to win them over.

Timing is a big issue for some customers, even if they want to buy now. They might not have the money, or it might be a long time until they're able to use what you're selling. (there are a ton more reasons for this one)
Having long-term ad strategies in place means you can address all of these issues, get more people into your funnels, and warm them up until they're ready to buy.
And how much should you spend on long-term ad strategies?
The great thing about these is that they're low-cost and low-maintenance. You only need to set aside about 10% of your budget to keep them running, and you can focus mostly on your other campaigns. 
You still get to put lots of effort into the high-converting stuff that gets customers now. So go ahead, launch that campaign that's gonna grow your revenue over the next few weeks.
Your long-term strategies are there to help you capture more customers that need a little extra warming up. As you create lasting relationships with customers, get ready for your business to grow. More business means more ad spend, and more ad spend means more business.
When it comes to sustaining and scaling, long-term ad strategies are super critical.
Four great long-term ad strategies
Remember that long-term ad strategies are all about building relationships. I won't get into the nitty-gritty details of how to make killer ad creative. Instead, I want you to know which ad strategies are effective, and that you should use as many as possible.
One more thing: organic and PPC advertising work well together here. Think of the best ways you can use both of these to build relationships and convert customers in the future.
Grow your email list with lead-gen ads
Email marketing is super effective and super low-cost (it's practically free). A great way to take advantage of it is to create lead-gen ads that grow your email list.
Yeah they're awesome for those short-term campaigns when you're trying to convert people ASAP. But more than that, lead-gen ads are your long-term ticket to those sweet email inboxes. You get free access to put offers right in front of customers. Use it to nurture leads for as long as it takes to convert them.
When you've got a polished lead magnet and you're ready to create a simple & effective ad, stick to the basics. You're not trying to get a ton of info about each person. Just create something simple that they'll find irresistible, with a lead form that only asks for their email and their name.
For example, let's say you're luring in leads with a home buying guide. You whip up a great Facebook ad that grabs their attention and offers free downloadable help. All they have to do is click a button, fill out a quick form, and the guide is theirs.
The wonderful thing is that lead-gen ads like this capture leads who are looking to buy a home soon, as well as those thinking about buying in the future. Watch your email list grow with hot, warm, and cold leads, and get ready to nurture them until they convert.
Pro tip: Use your ads manager and something like Google Analytics to keep tabs on your numbers. But don't freak out when you don't see conversions or clicks right away. It takes about a month or two before they start trickling in. Be patient!
Campaign for Page Likes
If you read our Instagram article, you know that likes can totally be a vanity metric when it comes to social media. But they're still valuable because they add social proof that you're a trustworthy name. When you run campaigns for people to like your page, you're setting yourself up for more engagement and more followers.
There are obvious reasons why that's good. But what you might not realize is Facebook's algorithm will really help to boost activity on your page. That's because the algorithm usually shows more of your content to new followers, which means your engagement rate goes up, which means your content gets in front of other users, and so on. 
You don't have to push for conversions right off the bat, either. Later on when your new followers have warmed up, you can run retargeting campaigns and have a better chance at closing the deal.
What's really awesome is that it's so simple, and you can get super creative about how to offer value and entice those likes.
For example, you could ask users to like your page so they won't miss out on your live property walkthroughs. Or you could set up a raffle for a home-improvement store gift card, and users can enter by simply liking your page.
The possibilities are seriously endless!
Use Facebook Groups
You know about Facebook Groups. You've probably even joined a few or started your own. One of the biggest advantages of Facebook Groups is they allow you to create your own community and foster long-term relationships. You can prove your value, grow your following, and advertise — for FREE!
Well, that last part comes with a catch. Facebook doesn't really like it when you create an ad that sends people to somewhere else on Facebook. So don't do that.
What you can do is create a totally organic post and link/tag your group in the post. It's a valid strategy to drive traffic and gain new members, and Facebook doesn't frown upon it.
Along with the other long-term ad strategies I've talked about, Facebook Groups needs to be part of your ongoing plan. That's because it offers an incredibly effective channel for you to get right in front of people who not only know you, but are interested in you. It's the perfect platform to really engage with your community members and build up your brand.
Where else can you gain a niche following and educate tons of followers at once? Where else can you directly answer a lead's unique question and warm them up along with others? Where else can you gather a community that trusts you and organically grows your social proof for you?
It's like having an email list that's open to your audience, where everyone can take part in valuable discussions around your brand.
Use Facebook Live to grow retargeting opportunities
Organic engagement is really powerful, especially when you use Facebook Live. You can interact with followers right here, right now. The reach is phenomenal, too, because your followers get notified as soon as you go live.
But the best part? It's fantastic for retargeting. 
Any video you post on Facebook lets you retarget the people who viewed it. And people are drawn to Facebook Lives, so it's a really helpful tool for building an audience that you want to advertise to later. Even if someone tunes in for a couple seconds, you still get their info, which will lead to plenty of retargeting opportunities in the future. You can also be super relevant by creating retargeting campaigns based on the types of videos people engage with. 
What long-term ad strategy mistakes should you avoid?
Now that you know some of the most effective long-term ad strategies, it's time to go over some common mistakes you don't want to make.
Running out of patience — Remember, "long-term" means long-term, so don't expect to see results in a few days or weeks. Don't pull the plug on your campaign because it's had three clicks in three weeks. Give it at least a couple months, and then see where you're at.
Using only one strategy — I don't recommend relying on only page like campaigns, or only lead-gen ads, or only one of the other strategies. Think of it like having a good diet — you want a healthy balance so you can nourish your business from many valuable sources. 
Recycling content in your ads — Fresh is best! Sure you'll have some real keepers with killer ad creative. But if you don't continue to create new content and fresh messaging that hits on different pain points, you'll become stale. So will your engagement and your ROI.
I hope you take all this sweet info and start thinking of long-term ad strategies for your business. I know it's easy to get caught up in funneling new leads ASAP, but having a solid plan for the long run is what'll really help you take off. Use these to tap into a greater audience that needs more time to convert. You'll be on your way to building solid relationships that'll help you scale and net that next level of awesomeness!
Wanna get awesome at marketing? All you gotta do is subscribe
I love handing out free info that helps you become a top-notch marketer. Make sure you don't miss any of it. Use the box below to subscribe, and follow S2B on social for the latest marketing essentials.
Smiles,
Shalimar