In an earlier blog, we told you about the coming rollout of Meta's change from the Classic Facebook Business page to the New Pages experience. Hopefully, you took some time to prepare for it because the change is here, and it is happening now! And, if your Classic page hasn't yet been converted to the New Page Experience, it soon will be.
While many of the features will remain the same, there are some important changes that you should know about. Below is a breakdown of what to expect with the New Pages Experience.
What Hasn't Changed
Aspects of managing your Facebook Page that will remain the same include:
All Page content, including posts, photos, videos, stories, and groups, will automatically move to your new Page
An Instagram account can still be linked to your Page
All of your Page followers will be transitioned to your New Page, and the follower count will still be displayed
The blue verification mark will automatically be transferred to your New Page
Business Manager, Ads Manager, Creator Studio, and Pages Manager App are still available
What changes can I expect?
At the same time, the transition to the New Pages Experience will cause notable changes that may affect your management of your Facebook Page. These changes include:
Redesigned layout that's simpler and more intuitive
Easy navigation between personal profile and pages
Dedicated News Feed to discover and join conversations, follow trends, interact with peers and engage with supporters
You can follow others from your Page's News Feed to share, like, and comment on their updates as your Page
Updated task-based admin controls, giving trusted page admins full control or partial access
Actionable insights and more relevant notifications
Safety and integrity feature to detect spammy content and impersonator accounts
This is what the New Pages Experience looks like: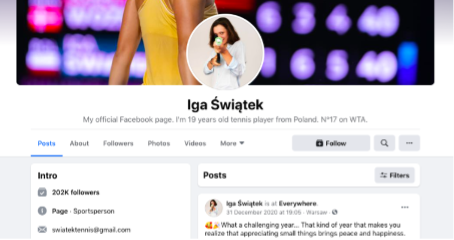 Let's take a closer look at the functionality of a couple of these changes and how to navigate them.
Switching Into Your New Page
As Facebook continues to migrate users from the Classic Pages experience to the New Pages experience, they are changing how you switch from your page to your business page. Here's how to do it:
To switch to your New Page from a Desktop
Open your home page.
Click on your profile picture in the top right.
Select Switch Profile.
Select the new Page you want to open.
To switch to your New Page from a Mobile.
Open your Facebook app.
Tap on your profile picture in the bottom right.
Under your name, tap on the new Page you want to open.
This will switch into and open your new Page.
Sharing From Your New Page to Your Page
With Classic Business Pages, when you click on "Share," you used to get a long list of sharing options. With the New Page Experience, your sharing options have been reduced to two choices.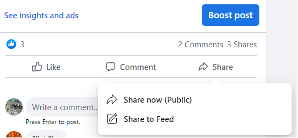 Just as with the Classic Page, when you want to share a post from your New Page, you click on "Share" in the bottom right corner of the post. Your two options are:
"Share Now," which sends the post directly to your personal Facebook Page Feed
"Share to Feed," which reshares the post to your Business Page but allows you to add additional content
New Page Manager Roles
When adding managers to your Facebook Page, you can now grant full or partial access. This replaces the old "Page Roles" settings, where you could grant roles such as "Page Administrator" and "Page Editor."
Full access grants the same amount of access as the Admin or creator of the Page, which includes:
Viewing tools and insights
Editing the Page settings or deleting the Page
Granting permissions
Managing all content, linked accounts, and ads
Responding to comments
Creating events
Removing or banning people from the Page
Here are instructions on how to grant full access.
Once you grant someone full access, this gives them complete control of the Page, and they will have the same managing capabilities as you. They will be able to grant control or task access to additional people, remove those with access, and post and delete content. Page access can be edited at any time.
Unlike full control, partial access (or task access) gives restricted managing abilities, such as:
Viewing insights
Managing all content and ads
Responding to direct messages and comments
Those with task access can only manage the Page through Facebook's tools, like Facebook Business Suite, Creator Studio, and Ads Manager. Here are the instructions on how to grant someone partial access.
A Note About "Likes"
As we mentioned in our earlier blog, Page Likes are going away. Now that it's happening, we want to explain what it means for you and your New Pages Experience. As stated by Facebook, here's what you need to know about the effect of these changes:
If someone liked and followed your Classic Page, they will continue to be a follower for the New Page and added to your total follower count
If someone liked your classic Page but didn't follow it, they will not transfer to your New Page as a follower
If someone followed your Classic Page but didn't choose to like it, they will still transfer to your New Page as a follower
Page likes will not be supported on your New Page, and the Page like count will no longer be accessible
According to Meta, Facebook made this change because the number of followers is a much better indicator of a fan base, as followers are users that are more interested in what each Page has to offer. As opposed to just "liking" your Page, this ensures you're your fans will receive your updates.
Connect your Facebook Page and WhatsApp Business account
When you connect your Facebook Page and WhatsApp Business account, you can also turn on syncing for business contact info, such as email address, phone number, and business address, from their Facebook Page to their WhatsApp account. Updates made on Facebook will appear on WhatsApp.
To connect your Page and WhatsApp account:
Log into Facebook, then click your profile photo in the top right
Click See all Profiles, then select the Page you want to switch to
Click your Page's profile picture in the top right of Facebook
Click Settings & privacy, then click Settings
In the left menu, click Linked accounts
Click WhatsApp
Select your country code and enter your WhatsApp Business number
Click Send WhatsApp code
Follow the on-screen instructions to finish connecting your WhatsApp account
Here's a link to learn how to turn on syncing in the WhatsApp Business apps for Android or iOS.
New Creator Marketplace
Meta has been talking about their Creator Marketplace for quite some time, and it's being rolled out for testing for a small group of invite-only brands in the US. This tool within Meta's Business Suite should make it simple for brands to find the exact type of creators and influencers they're looking to partner with.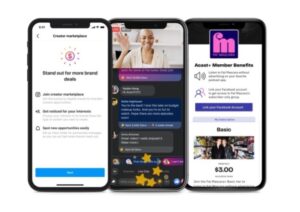 Creator profiles will include short descriptions, recent posts, and statistics like follower count, engagement, and average reach. Their profiles can be filtered by gender, age, location, and interest. The same filters can be applied to creators' audiences.
The Marketplace's dashboard also includes communication and collaboration features. Brands can message creators, outline campaigns, and request deliverables from one place.
For More Help
If you have questions, please send them to us. Our CEO, Shalimar, will give you expert guidance on how to get the most out of Facebook for your real estate marketing efforts.
So, whether you're getting used to the New Page Experience or having trouble adjusting to the changes, get in touch with S2B. Let us help you optimize your page, assign roles, and target your ideal audience to grow your business. Book a free call with our CEO today.